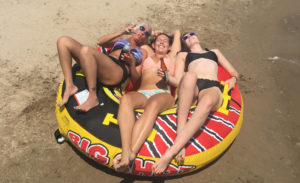 Boating OWI Iowa
BE ADVISED! If accused of boating while intoxicated, call one of our OWI lawyers for help. The charge will most likely be dismissed. Do NOT plead guilty to this charge.
There has been an Iowa Supreme Court opinion released that nullifies this charge. The Polk County Attorney will not prosecute these charges because of this opinion. Other jurisdictions will follow.
Iowa Boating OWI Laws
In Iowa, a person is considered to be boating while intoxicated if the person…
Is under the influence of alcohol or other drug or a combination of such substances or…
Has a blood, breath, or urine alcohol concentration of 0.08% or more or…
Has any amount of a controlled substance present in his or her person, as measured in blood or urine.
Penalties for Boating Under the Influence in Iowa
1st Offense
Fine of $1,000
$500 of the fine may be waived by the court if no personal or property injury
Minimum jail sentence of 48 hours up to one year max.
Barred from operating a vessel for one year
2nd Offense
Fine of $1,500 up to maximum $5,000
Minimum jail sentence of 7 days up to two years in prison max.
Barred from operating a vessel for two years.
3rd of More Offense
Fine of $2,500 up to maximum $7,500.
Minimum jail sentence of 30 days up to five years in prison.
Barred from operating a vessel for six years.
Additional Requirements
You must complete a substance abuse evaluation and treatment, if recommended. Yes, you must also attend and pass a course for drinking drivers. Click on our Substance Abuse Eval link for more information and resources.
Refused to Test
By operating a vessel on Iowa waters, you have given "implied" consent to alcohol testing. If you refuse to provide a sample and the State believes it cannot obtain a conviction for boating under the influence, you will be prohibited from operating a boat, as fixed by the Court and pay these penalties:
1st Offense $500
2nd Offense $1,000
3rd Offense $2,000