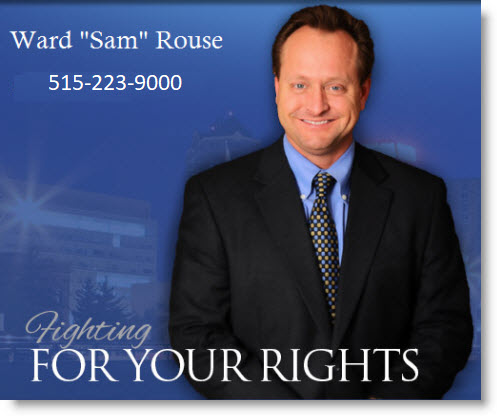 Sam Rouse – Des Moines OWI / DWI / DUI Defense Lawyer
There are strict mandatory penalties that come into play with even a first-time OWI. These penalties will likely have long-lasting negative implications. Consequences may truly be dire where the offense is a second, third or subsequent, or if property is damaged or if someone is injured. Incarceration, heavy fines, extensive loss of driving privileges, and long strict probationary periods are common.
Contact OWI Defense Lawyer Ward Rouse
Call: 515-223-9000
Email: wardrouse@rouselaw.us
Website: www.rouselaw.us/
WHY HIRE WARD ROUSE FOR YOUR DES MOINES OWI-DWI CASE?
Not all lawyers are experienced OWI lawyers. Not even all defense attorneys are experienced OWI lawyers. Ward Rouse has tried drunk driving cases as both a prosecutor and as a defense attorney, and this gives him a background of knowledge in the area. If a mistake has been made by law enforcement, it may be possible to obtain a special court order called a suppression, which throws out some or all of the evidence. This may result in your case being dismissed and your driving privileges being reinstated without ever going to trial.
Mr. Rouse issues subpoenas and then carefully reviews all available information, including audio and video tapes of the traffic stop and arrest, to look for ways to challenge a case before trial.
A MESSAGE FROM DES MOINES CRIMINAL LAWYER, WARD ROUSE
I approach every case with the intent to get the best results for my clients. If you or a loved one is being charged with operating while intoxicated, please feel free to call or email me. Consultations are free. 515.223.9000